The title of the recipe sounds like heaven, doesn't it? Perfect for the upcoming summer.
We just can't get enough of these little cakes and it tastes fantastic both warm or cold. The preparation is also simple.
By leaving out industrial sugar, we also like to eat a bit more than usual. If you like it sweet, you can of course also use household sugar and increase the amount if necessary – that's up to you. We think it is perfect as in the recipe.
Enjoy!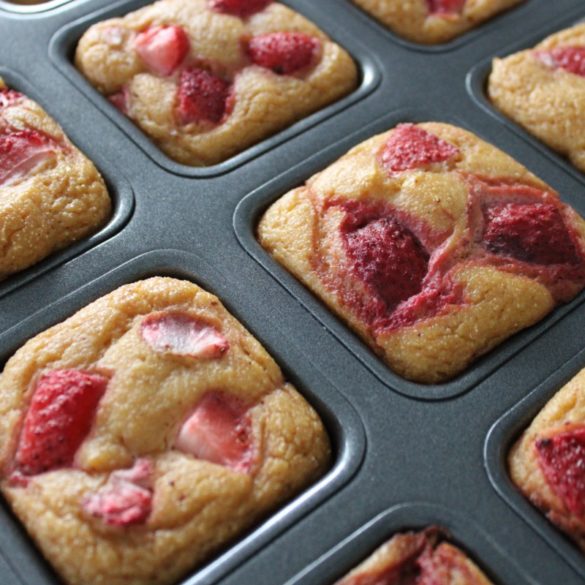 Ingredients
Dough

50 grams almond butter, brown

50 grams date sugar/sweetness (or other sugar substitute)

1 pinch of salt

2 eggs

500 grams low-fat quark

1 packet of custard powder, vanilla

120 grams soft wheat semolina

1 packet of baking powder

Covering

1 handful of strawberries, cut into small cubes
Instructions
Preheat the oven to 175°C top/bottom heat and grease a 12-cup brownie pan if it doesn't have a non-stick coating.
Put the almond butter, date sugar/sweetness, salt and eggs in the mixing bowl, stir for 1 minute/speed 4.
Add the quark, pudding powder, soft wheat semolina and baking powder, stir in 45 seconds/speed 4 and push down with the spatula. Now mix together again for 15 seconds/speed 4.
Now fill the finished dough into the brownie pan (e.g. with the help of a piping bag) and cover with the cut strawberries and press lightly.
Bake the strawberry semolina slices for about 25-30 minutes in the preheated oven in the middle rack. Cover if necessary so that the slices do not get too dark and leave to cool on a wire rack.
Did You Make This Recipe?
How you went with our recipes? Tag us on Instagram at
@bbmixnet
.