Today I bring to you my healthy recipe for a pizza dough with a high percentage of whole spelled. Not only it tastes delicious, but also gets by with a small piece of yeast.
Why spelt?
Thanks to its higher-quality proteins, more vitamins, many fibres, unsaturated fatty acids and minerals, spelt is, as mentioned above, healthier than wheat.
Crunchy and delicious
… the way a pizza should be. The different types of flours in this recipe makes the pizza crispy on the outside and soft on the inside.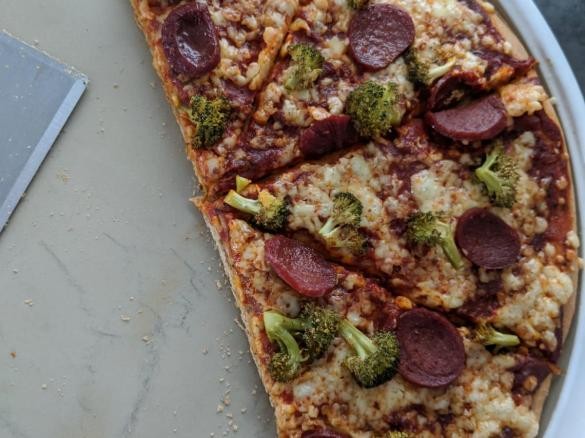 Ingredients
10 grams of yeast

75 grams water

75 grams milk, 1.5% fat

1 pinch of sugar

1/2 tsp oregano, dried

1/2 tsp salt

1 tsp of olive oil

180 grams wholemeal spellt flour

70 grams spelt flour type 630
Instructions
Pour yeast, water, milk and sugar into the mixing bowl and stir for 2 minutes/37°C/speed 2.
Place the remaining ingredients in the mixing bowl and knead on Interval/Knead function for 2 minutes.
Let the dough rest for 1.5-2 hours.
Shortly before the end of the resting period, preheat the oven to 200 ° C top/bottom heat.
After the resting period, roll out the dough, spread pizza sauce on it, top it with the desired topping and cheese.
The pizza is now baked in the preheated oven for approx. 25 minutes at 200 ° C top/bottom heat.
Notes
The amount of yeast can also be increased of course. Please note that the resting period will be reduced accordingly.
Did You Make This Recipe?
How you went with our recipes? Tag us on Instagram at
@bbmixnet
.