Pistachios are so delicious, don't you think? Here is a delicious recipe from Turkish cuisine.
We bought pistachios, unroasted and unsalted, in a large pack. So that these can also be processed, the idea came about to conjure up mini tartlets.
The tartlets taste delicious, are soft on the inside and slightly crispy on the outside. Instead of mini tartlets, you can of course also try other shapes, e.g. filled cookies or mini croissants.
There are two variations of the fillings in this recipe: pistachios and almonds. If you want to make both fillings, cut the recipe for the filling in half and use pistachio and almonds once.
We hope you enjoy baking and bon appetit.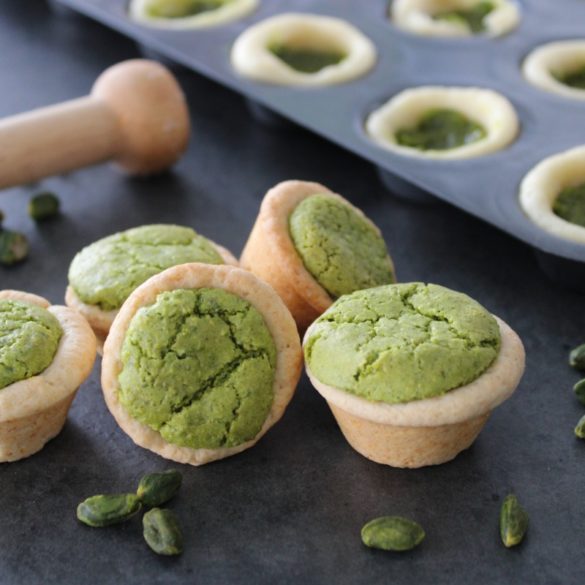 Ingredients
Dough

150 grams sugar

200 grams butter, cut into pieces, cold

150 grams yogurt (1.5% fat or 3.5%)

1 egg white

500 grams flour

10 grams baking powder

Pistachio filling

200 grams pistachios, unsalted and unroasted (or almonds)

200 grams sugar

2 egg whites

Also

Mini tartelettes pan
Instructions
Pistachio filling
Put the sugar in the mixing bowl, process 5 sec./speed 10 to powdered sugar and transfer. Put the pistachios in the mixing bowl and grind 4 sec./speed 10.
Put the sugar with the egg white in the mixing bowl and mix together with the ground pistachios for 15 sec./speed 3 and transfer. Store in the refrigerator.
Rinse the mixing bowl and dry it well.
Dough
Put the sugar in the mixing bowl, process 10 sec./speed 10 to powdered sugar.
Add the butter beat for 30 sec./speed 4.
Put the yoghurt, egg white, flour and baking powder in the mixing bowl, work 30 sec./speed 5 to form a dough.
Preparation
Preheat the oven to 180°C top/bottom heat.
Place the dough on a floured surface. Shape walnut-sized pieces into balls and distribute in the hollows of the tartlet pan. With the help of the back of a cocktail mortar (or mini dough shaper), mash the dough in the mold so that the dough comes up a little and a dough mold is formed. Now remove some of the pistachio filling with moistened fingers and pour into the dough mold and spread a little with your fingers. Proceed in the same way with the remaining molds.
Bake the mini-tartelettes for about 15-20 minutes on the middle rack and allow to cool on a wire rack, serve or store in an airtight container.
Did You Make This Recipe?
How you went with our recipes? Tag us on Instagram at
@bbmixnet
.