You can't get enough of chocolate: double is better than one.
The muffins are fluffy, chocolaty, juicy and prepared in just a few minutes. A topping is not necessary here.
There are 24 muffins in this recipe. If you want less, halve the amount.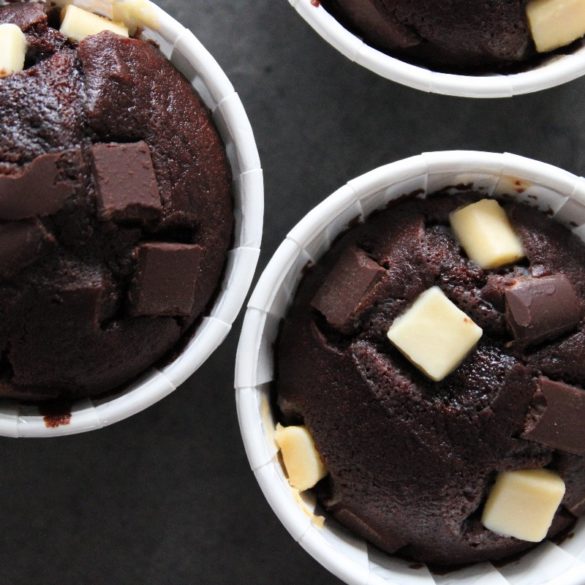 Ingredients
220g butter, unsalted and soft, cut into pieces

1 tbsp vanilla sugar, homemade

4 eggs

280 grams milk

210 grams sugar

360 grams flour

1 pack of baking powder

80 grams cocoa, unsugared

100 grams chocolate chunks, dark chocolate

100 grams chocolate chunks, white chocolate
Instructions
Preheat the oven to 180°C top/bottom heat.
Put the softened butter, vanilla sugar, eggs, milk and sugar in the mixing bowl, mix for 1 min. 30 sec./speed 3.
Add the remaining ingredients except for the chocolate chunks, 30 sec./speed 4.
Spread the dough and the chocolate chunks (press lightly) on 24 muffin molds and bake for about 15 minutes and let cool on a wire rack.
Notes
If you don't have chocolate chunks at home, you can also use leftover chocolate from Santa Clauses or Easter bunnies (or quartered Toffifees, Raffaello, ...).
Did You Make This Recipe?
How you went with our recipes? Tag us on Instagram at
@bbmixnet
.