Marzipan lovers take note: You will love these rolls.
These walnut-marzipan rolls with dark chocolate are conjured up quickly and taste fantastic.
For the upcoming christmas season, they are perfect for snacking but also for giving away.
Here is the delicious recipe: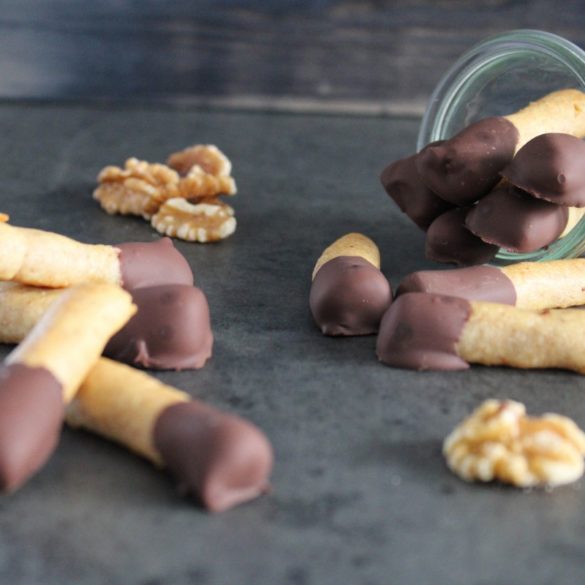 Ingredients
100 grams walnut halves

200 grams marzipan, in pieces

1 egg white

1 pinch of salt

75 grams sugar

3 drops of bitter almond flavor

150 grams dark chocolate couverture, in pieces
Instructions
Put the walnut halves in the mixing bowl, grind 5 seconds/speed 7 and push down with the spatula.
Add the remaining ingredients except for the dark chocolate couverture and stir 1 min./ speed 4 to a mixture and place on a board. Rinse mixing bowl.
Preheat the oven to 180°C top/bottom heat.
Shape the mixture in small portions into rolls (approx. 1cm in diameter). Cut into approx. 5cm long sticks and place them on a baking sheet with baking paper.
Bake the finished rolls in the oven for about 12 minutes and let them cool down.
Pour the couverture into the mixing bowl, chop for 5 seconds/speed 8, push down with the spatula, melt 5 min./50°C/speed 1 and transfer.
Dip the cooled walnut and marzipan rolls in the melted couverture, wipe off a little and let them set on baking paper.
Notes
Tip: Sprinkle coconut flakes on the couverture that has not yet set.
Did You Make This Recipe?
How you went with our recipes? Tag us on Instagram at
@bbmixnet
.
[social-media]