Fluffy, juicy and lots of crumbles – that's how we like them best: Crumble biscuits with sour cherries.
When we were invited to breakfast last Sunday, we got about 2kg of pitted sour cherries.
We tinned most of the sour cherries so that they could be kept longer and we deep-froze around 500 grams. Since we now need space in the freezer again, it was time to process these sour cherries.
If you would like to have the recipe to tin, please give us feedback using the comment function – we're looking forward to it.
In this recipe we show you a fluffy yeast dough topped with juicy sour cherries and lots of almond crumbles that taste slightly like marzipan after a day.
Enjoy the meal.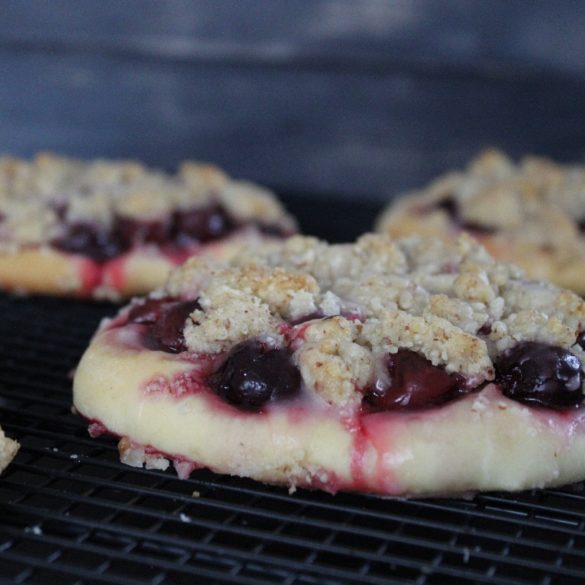 Ingredients
Dough

15 grams yeast

140 grams milk

60 grams sugar

300 grams flour

1 pinch of salt

50 grams butter, soft, cut into pieces

1 egg

Topping

100 grams almonds

100 grams flour

130 grams sugar

100 grams butter, cold, in pieces

1 pinch of salt

500 grams sour cherries, pitted
Instructions
Dough
Heat the milk, sugar and yeast in the mixing bowl for 2 minutes/37°C/speed 2.
Add the remaining ingredients, Interval/Knead function for 2 minutes  and transfer to a bowl. Rinse mixing bowl.
Cover and let the dough rest for 2-3 hours. Prepare the crumble in time.
Topping
Put the almonds in the mixing bowl, chop 10 seconds/speed 7 and push down with the spatula.
Add flour, sugar, salt and butter, mix 10 seconds/speed 6, transfer and put in the fridge.
Preheat the oven to 180°C top/bottom heat.
Shape the risen yeast dough into a roll, form 9 balls of the same size. Roll out each ball with a diameter of approx. 11-12cm and place on the baking sheets. Spread the sour cherries on top, pluck the crumble and spread it on the yeast dough. Let it rest again covered for 30 minutes.
Bake in the oven for approx. 15-18 minutes and let cool on a wire rack. The crumbles shouldn't turn brown.
If necessary, decorate with icing sugar, a little lemon juice and water.
Did You Make This Recipe?
How you went with our recipes? Tag us on Instagram at
@bbmixnet
.
There is more of us on Pinterest, Facebook and Instagram.
If you have tried this recipe, please tag photos of it with @bbmixnet