A spicy thing. If you like it spicy, this is a recipe for you.
Some time ago we were invited to a barbecue with the whole family. Since my husband and I like it spicy, we decided to use Chipotle for a sauce/dip. The idea came to him through a well-known sandwich chain, where we also like to order sometimes.
After trying the finished chipotle mayonnaise, it became clear to us: our new favorite! To be on the safe side, we put the chipotle mayonnaise on the nicely laid table and didn't say anything else about it. Everyone ate from it and always put more on the plate. In no time at all, the mayonnaise was empty and it received great praise. That confirmed us that it is an absolute must-have for every barbecue invitation.
As the barbecue season is about to begin, we don't want to withhold the recipe from you and wish you a lot of appetite.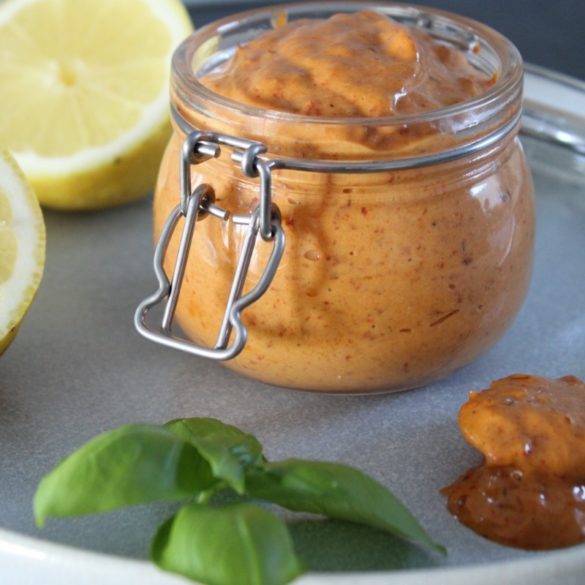 Ingredients
2-3 chipotle in adobe sauce

2 cloves of garlic

1 red onion, small

1 tbsp olive oil

2 tsps mustard, medium hot

½ lemon, squeezed

300 grams mayonnaise, homemade or bought

Salt, to taste

Pepper, to taste
Instructions
Put the chipotle, garlic cloves and onions in the mixing bowl, chop 8 seconds/speed 5 and push down with the spatula. Repeat this step.
Add the olive oil to the mixing bowl, sauté 7 minutes/120°C/speed 1.
Add mustard, lemon juice, salt and pepper, stir together for 2 minutes/speed 1.
Add mayonnaise, mix 1 minute/speed 4.
Put the finished chipotle mayonnaise in a swing-top glass and serve or store in the refrigerator.
Did You Make This Recipe?
How you went with our recipes? Tag us on Instagram at
@bbmixnet
.