Fluffy, soft and simply delicious, whether sweet or savory toppings. You will love them.
As a child, I have always enjoyed eating açma when we were on vacation in Turkey. Often my parents would visit the bakery on their morning walk and either bring Simit (sesame rings) or these Turkish rolls with them.
On our balcony we usually had a hearty topping on them and for dessert there was a small piece with a nut-nougat cream – can only be recommended.
The Turkish rolls can also be filled as you like, e.g. with a little feta and parsley, a potato and leek filling or as we like them without a filling.
A little tip: You can also prepare twice the amount and freeze the açma. If necessary, simply defrost and briefly bake in the oven.
Have a good appetite.
Ingredients
Dough

20 grams yeast

220 grams milk

½ tsp sugar

1 tsp yogurt (1.5% or 3. %% fat), heaped up

110 grams sunflower oil (or rapeseed oil)

1 egg white

450 grams spelt flour (type 630) or wheat flour (type 550)

1 teaspoon salt

Also

7 grams grams butter, soft

1 egg yolk

1 tsp milk

some sesame seeds, optional

some black cumin, optional
Instructions
Dough
Put the yeast with the milk and the sugar in the mixing bowl, heat 2 minutes/37°C/speed 2.
Add yoghurt, oil, egg white, salt and flour,  use Interval/Knead function for 2 minutes.
Transfer the finished dough to a bowl and cover it and let it rise for about 1 hour.
Açma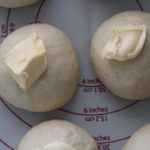 Cut the dough into eight dough pieces of the same size and form a round shape. Put 1 teaspoon of butter on each dough piece, spread the butter with your hands, press the dough piece flat and roll it up from the long side.
Pull each rolling pin a little long, twist and shape into a ring. Connect the two ends together and press them together well.
Spread the formed açma on two baking trays (covered with baking paper) and leave to rest covered for about 30 minutes.
Preheat the oven to 180°C top/bottom heat.
Now brush the Turkish rolls with the egg yolk-milk mixture and sprinkle with sesame seeds and black cumin. Bake on the middle rack for about 25-28 minutes until golden brown. After baking, let cool on a wire rack or enjoy lukewarm.
Did You Make This Recipe?
How you went with our recipes? Tag us on Instagram at
@bbmixnet
.