A summer classic: elderflower syrup. Before the flowering period is over, quickly conjure up homemade syrup from elderflower for the supply.
The fresh, delicate scent of the elderflower while walking through the forest has literally forced us to collect elderflower. It was harvest time. The recipe is very simple and requires little effort.
Elderflower syrup with mineral water and lemon or in sparkling wine/prosecco (e.g. with fresh mint) is very refreshing in summer. Enjoy it.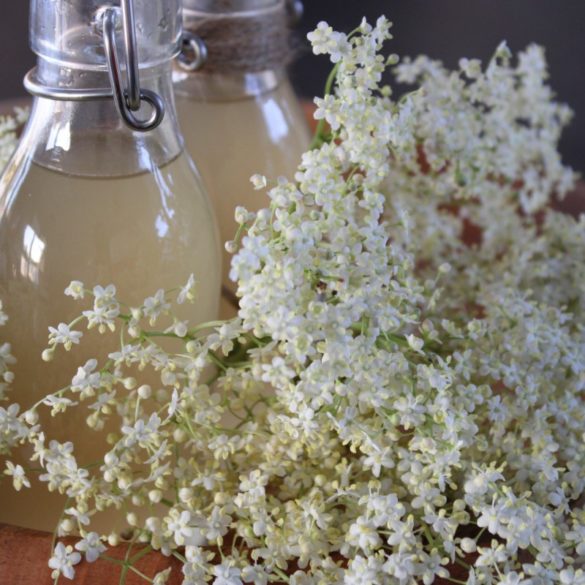 Ingredients
20-25 elderflower umbels

1500 grams water

1000 grams sugar

1-2 slices of an organic lemon

25 grams citric acid, food safe
Instructions
Place a bowl on the Thermomix®, weigh the water and set it aside.
Gently shake out the flower umbels to remove any small insects. Spread a strainer in the bowl of water and place the flower umbels in it. Add organic lemon wedges and cover and leave to stand in a cool place for 24 hours.
The next day, use the strainer to squeeze out the flower umbels and lemon slices. Strain the contents of the bowl one more time with a fine sieve and place in the mixing bowl.
Add sugar and citric acid, cook 25 minutes/100°C/speed 2.
Fill the elderflower syrup into sterilized bottles, close immediately and serve with sparkling wine or mineral water.
Did You Make This Recipe?
How you went with our recipes? Tag us on Instagram at
@bbmixnet
.