Ramadan has already started and what is needed? Of course, pita bread. Homemade always tastes the best.
Pita bread is available in different versions depending on the region and consists of lightly salted yeast dough.
Its remarkable diamond pattern is pressed in with fingers. There is also a mixture of sesame and black cumin that is sprinkled on the pita but it's up to you. You may want to refine the recipe with olives or dried tomatoes – any ideas are welcome.
Try out our recipe which we like to use as a grill side dish.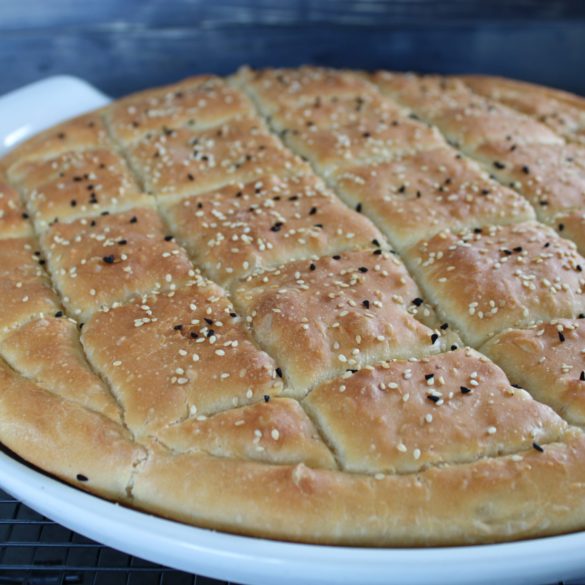 Ingredients
290 grams milk

270 grams water

10 grams yeast

1 tsp sugar

850 grams of flour and a little more for processing

2 tsp salt

3 tbsp sunflower or rapeseed oil and a little more to work on

1 tsp black cumin

1 tsp sesame
Instructions
First weigh the milk, the water, the yeast with the sugar in the mixing bowl and heat for 3 minutes/37 ° C/speed 2.
Take 85g of the flour and mix it in the mixing bowl at 1 min/speed 2. Let the batter rest for 15 minutes.
After the waiting period, add the remaining ingredients except for the sesame and black cumin and process into a dough for 3 minutes/dough step.
Remove the dough from the mixing bowl and let it rise in a bowl for 1.5 hours.
Lightly sprinkle flour on a baking sheet and spread the dough with damp hands. Let the dough rest for 30 minutes. During this time, preheat the oven to 190°C top/bottom heat.
Fill a small bowl with a little bit of oil, dip three fingers into it and press in the familiar diamond pattern. Then sprinkle with sesame and black cumin.
The pita bread is baked golden brown for approx. 40 minutes at 190°C top/bottom heat.
Did You Make This Recipe?
How you went with our recipes? Tag us on Instagram at
@bbmixnet
.