Trick or treat! Halloween 🎃 without candy? Doesn't exist! Here is a delicious recipe to eat or as a give away.
Sweets shouldn't be missing on Halloween, but how about something homemade? Ideal for a Halloween party or when visitors come.
If you want to pack the Halloween crunch nicely and give it away, as in the picture, we have a little surprise for you.
Newsletter subscription
The labels can be downloaded free of charge – simply subscribe to our newsletter and the link will be sent directly to your email and can be printed out immediately: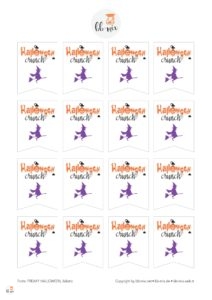 Simply cut out, punch a small hole and attach to the bag with a paper tape or glue to the bag.
Happy Halloween! 👻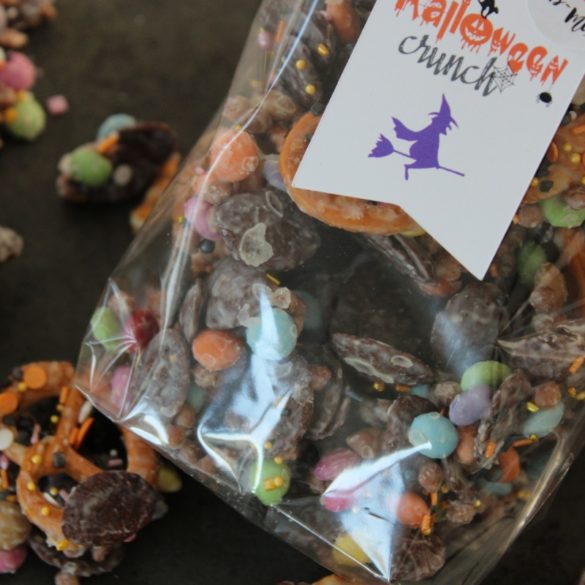 Ingredients
2 cups of cereals

2 cups of pretzels

1 pack of smarties (approx. 230g) or M&Ms

200g white chocolate (couverture), cut into pieces

Halloween sugar sprinkles
Instructions
Crush the couverture in the mixing bowl for 6 seconds/speed 8 and push down with the spatula.
Melt the crushed couverture for 6 minutes/40°C/speed 0.5.
During this time, prepare a baking sheet lined with baking paper.
Put the rest of the ingredients in a bowl except for the sugar sprinkles. Pour the melted couverture over it and mix it with your hands.
Distribute the contents of the bowl on the baking sheet, sprinkle with the Halloween sugar sprinkles and allow to cool completely. After cooling, break into pieces and enjoy.
Did You Make This Recipe?
How you went with our recipes? Tag us on Instagram at
@bbmixnet
.
[social-media]